Tillicum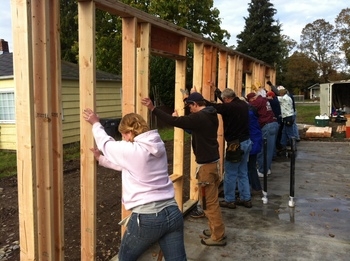 In 2009, the City of Lakewood announced it would use its share of federal Neighborhood Stabilization Program funding to partner with TPC Habitat for Humanity to provide affordable homeownership opportunities in the community of Tillicum.
It is estimated that over half the population of Tillicum lives in poverty. According to the City of Lakewood Tillicum Planfrom 2010, only 22% of Tillicum homes are owner-occupied.
Habitat for Humanity began building in Tillicum in the fall of 2011. As of April 2015, TPC Habitat for Humanity has completed 15 new homes in Tillicum, including the affiliate's first multi-family housing unit.
In addition, Habitat has partnered with existing Tillicum homeowners to provide no-interest loans and free volunteer labor as part of our Neighborhood Revitalization Initiative (NRI). Through NRI, critical home repairs such as crawlspace and attic insulation, exterior sealing, exterior painting, and plumbing have been completed in partnership with qualifying Tillicum residents.