Tillicum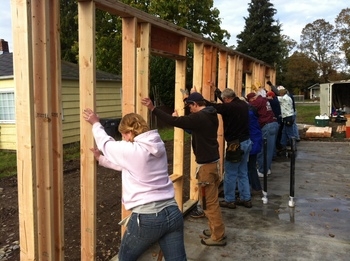 Tillicum
Scattered sites in the Tillicum neighborhood of Lakewood.
In 2009, the City of Lakewood announced it would use its share of federal Neighborhood Stabilization Program funding to partner with TPC Habitat for Humanity to provide affordable homeownership opportunities in the community of Tillicum. According to several resources, it is estimated that over half the population of Tillicum lives in poverty. Very few houses in Tillicum are owner-occupied.
Habitat for Humanity is developing 5 home sites in Tillicum, eventually building up to 12 new homes:
8501 Berkley St SW
15206 Grant Ave SW
15407 Grant Ave SW
14417 Washington Ave SW
14522 Washington Ave SW
In addition to the new construction, Habitat will act as a catalyst for change by partnering with existing Tillicum homeowners to provide no-interest loans and free volunteer labor to make improvements on their homes as part of our Neighborhood Revitalization Initiative (NRI) program.
Habitat for Humanity began building in Tillicum in the fall of 2011. A year later, three homes are complete, with two more under construction and scheduled for completion by the end of the year. Through NRI, three homeowners have had critical home repairs completed on their homes. Projects have included crawlspace and attic insulation, exterior sealing, exterior painting, and plumbing.