Building on Faith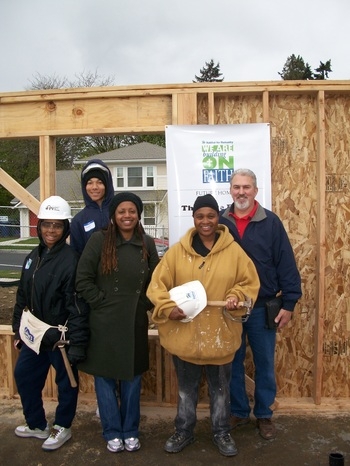 In response to the prophet Micah's call, Habitat for Humanity strives to create a world where everyone has a simple, decent, and safe place to live. Habitat welcomes all people to build with us in partnership, bridging theological differences by putting love into action.
Everyone can use the hammer as an instrument to manifest God's love. Habitat founder Millard Fuller called this concept "the theology of the hammer," explaining, "We may disagree on all sorts of other things ... but we can agree on the idea of building homes with God's people in need."
Building on Faith is an annual celebration of the partnerships between the faith community and Habitat for Humanity. This year, Building on Faith will take place at The Woods at Golden Given neighborhood from July to October.
Faith groups are encouraged to put their faith into action by scheduling a build day with us. Opportunities are available Wednesdays through Saturdays, from July 9 through October 31. Dates will book quickly, so please contact us soon to be put on the calendar.