Building on Faith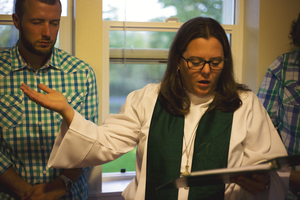 Everyone can use a hammer as an instrument to manifest God's love. Habitat founder Millard Fuller called this concept "the theology of the hammer," explaining, "We may disagree on all sorts of other things ... but we can agree on the idea of building homes with God's people in need."
Building on Faith is an annual celebration of the partnerships between the faith community and Habitat for Humanity.
Each summer, Tacoma/Pierce County Habitat for Humanity celebrates Building on Faith. While a specific home is designated the "Building on Faith" house, Building on Faith extends to the entire neighborhood and lasts for a period of months.
Each year, more and more faith groups participate in Building on Faith, sharing fellowship with each other and developing lasting relationships with Habitat.
Click here to see the 2014 Building on Faith participants.
Click here to read our blog post.
Interested in Building on Faith?
Recruitment for Building on Faith 2015 will begin in January. Interested faith groups are encouraged to contact us now to start planning.