Women Build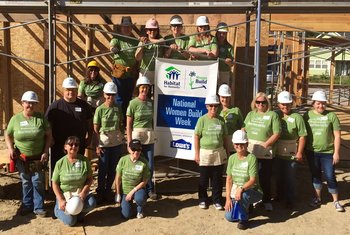 Women Build empowers women volunteers by teaching them how to build homes.
Nationally, more than 60% of Habitat for Humanity's houses are built with women heads of household. Due to skills they learn while building their Habitat home, these women are better equipped to maintain their homes and, consequently, more confident in their ability to cope with day-to-day situations.
Check out our blog to meet some of our Women Build committee members.
Women Build 2017
Build Schedule
Mark your calendars for these Women Build 2017 dates:
Saturday, May 13
Saturday, June 10
Saturday, July 8
Saturday, August 12
There is no fee to participate, though you do need to attend a New Volunteer Orientation prior to your first time volunteering.
If you are interested in joining Women Build on May 13, but have not yet attended an orientation, we will be offering an on-site orientation that morning. Please be prepared to arrive by 8:15am at The Woods at Golden Given. Please RSVP to Kat Sommers (253-627-5626 x 129) so we know how many volunteers to expect.
On-line registration will open up one month in advance of each build day. Please be sure to sign up on VolunteerUp. (Note: You must have completed a New Volunteer Orientation before you will be allowed to register online.)
Group Build Days
Interested in bringing your group out with Women Build? Select Fridays throughout the summer may be scheduled. Contact Tracey Sorenson (253-627-5626 x 104) for more information.
Paint-n-Sip Fundraiser
Join Women Build as we paint birdhouses and sip wine at this Friday, April 28 fundraiser. Click here for more info and to RSVP.
Handy Household Skills Workshop
Join Women Build at this workshop at the Lakewood Lowe's 9-noon on Saturday, April 1 and learn handy household skills. Contact Alison Paradise to register.
Give to Women Build
Women Build has a goal of funding one house per hear. Click here to make make a gift. (Be sure to select Women Build as the Designation)
Join Our Mailing List
Make sure you receive the latest updates. Request to be added to the Women Build mailing list.