Women Build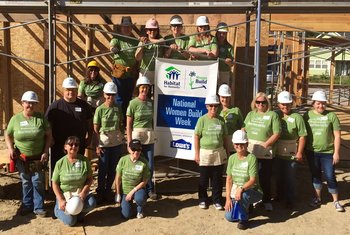 Women Build is a Habitat for Humanity program that empowers women volunteers by teaching them how to build homes.
Nationally, more than 60% of Habitat for Humanity's houses are built with women heads of household. Due to skills they learn while building their Habitat home, these women are better equipped to maintain their homes and, consequently, more confident in their ability to cope with day-to-day situations.
Women Build 2017
Mark your calendars! Women Build 2017 will kick off with a build day on Saturday, May 13.
There is no fee to participate, though you do need to attend a New Volunteer Orientation prior to your first time volunteering. 
Click here to be added to the Women Build mailing list.
Your support is needed!
Women Build has a goal of building one home per year in Pierce County. Here are some ways you can help:
Make a one-time gift - Select 'Women Build' as the designation
Women Build fundraising team - Sponsor a participant or join the team and earn fun rewards
Thank you Women Build groups!
A special thank you to these groups who participated in Women Build 2015: