MultiCare Homes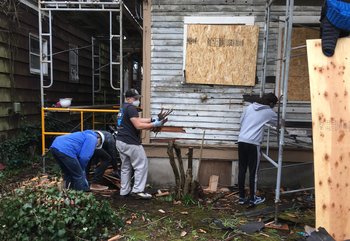 The MultiCare Homes are four homes in Tacoma's Wedge Neighborhood donated to Tacoma/Pierce County Habitat for Humanity by MultiCare Health System. 
While the houses currently are in need of extensive rehabilitation, the homes' assessed values post-renovation are too high to be a sustainable solution for most Habitat homeowners, who earn between 30-80% of the area's median income.
As such Habitat and MultiCare have agreed that the best and highest use of these properties is to sell the renovated homes on the open market and use the proceeds to create homeownership opportunities for 10-12 Pierce County families in a new Habitat for Humanity development.
We are referring to MultiCare's donation as "The gift that launched a neighborhood."
See these news stories from the Tacoma Weekly and Q13 News about the MultiCare donation.