Vision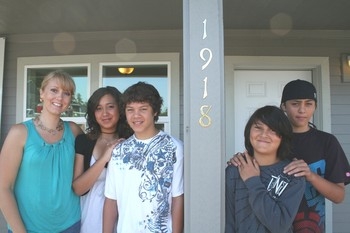 Tacoma/Pierce County Habitat for Humanity's vision is to build and foster a community where everyone has a decent, affordable place to live and where poverty housing is unacceptable. Our Christian foundation calls for us to set aside religious differences and work toward a common goal: to eliminate poverty housing in our community. Our values set the stage for this work.
Partnership

From its very conception, Habitat for Humanity has been built on partnerships — partnerships with families, churches, area corporations, community organizations, and individuals. We believe in the power of families working side by side with volunteers to build a Habitat House.

Homeownership

We believe in the power of homeownership to change lives, improve communities, and build the hope that can break the cycle of poverty.

Diversity

We believe that everyone, from all walks of life, deserves a decent, affordable place to live and that each person has something to contribute to building houses!

Volunteerism

We believe in the power of a community coming together to make a difference, and we are committed to providing exceptional volunteer experiences.

Stewardship

We believe we are responsible to our community and to those who give generously so that we can continue to build houses in partnership with families in need. We are committed to excellence and to the efficient use of our resources, and are accountable to our funders, families, and volunteers.