Salishan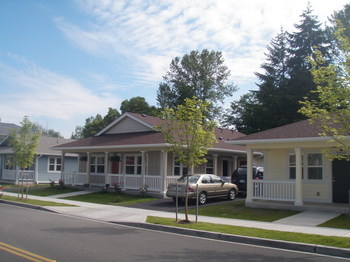 At the 4100 block of E "T" St and E Everett St, and 3900 block of E Roosevelt Ave in east Tacoma.
In January 2011, Tacoma/Pierce County Habitat for Humanity completed its 17th single-family house in the Tacoma Housing Authority's HOPE VI Project, Salishan.
The homes built by Habitat for Humanity in this East Tacoma neighborhood have helped create a safer neighborhood, added to the local tax-base, improved civic services to the area, and inspired neighbors to improve and maintain their own structures and property.
Salishan was completed in two phases, with 6 houses completed in 2006-07 and 11 houses in 2010-11. For anyone who knew the Salishan of the last 50 years, the new life these homes have brought to this neighborhood is obvious.