Gig Harbor / Key Peninsula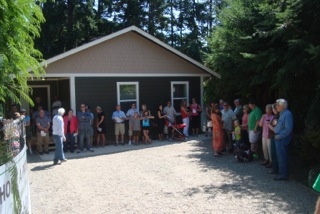 The Gig Harbor / Key Peninsula chapter (GH/KP) of Habitat for Humanity is a volunteer-led chapter that has been building affordable housing on the Key Peninsula since 2001. By operating under the organizational umbrella of the Tacoma/Pierce County affiliate, GH/KP maximizes the effective use of its resources, concentrating all of its efforts toward purchasing land, selecting families, and building houses.
Since its foundation, GH/KP has built 12 homes on the Key Peninsula and currently has procured enough land to build an additional 5 houses. At its current pace, it will take the chapter five years to complete these houses.
The GH/KP chapter is beginning a long-term effort to construct its future homes using a Buiilt Green concept, one in which environmentally conservative and energy-efficient materials and techniques insure that we remain good stewards of the earth's natural resources.
In 2012, the GH/KP chapter partnered with the Staben family to build their home at Horseshoe Lake Estates near Purdy.