Green Building Techniques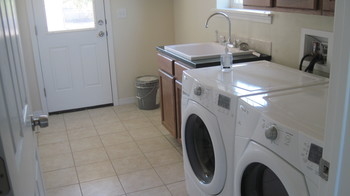 Green Building Techniques
Energy Efficiency

All Habitat homes are ENERGY STAR® certified and feature energy-efficient appliances, heating systems, and water-conserving low-flow plumbing features.

Insulation

Insulation levels in Habitat homes exceed building code requirements. To ensure they will be easy to heat, homes feature R-26 wall and R-45 attic insulation, along with high-performance windows (low E with argon).

Air Tightness

All Habitat homes are blower door tested for air tightness and generally score well above average.

Heating System

Habitat uses gas-fired radiant in-floor heating systems in slab-on-grade construction with on-demand hot water. This system is more efficient and guarantees both comfort and low utility bills. Habitat homes have an annual fuel efficiency rating of over 90%. Some Habitat homes are being equipped with ductless heating pumps for more efficient heating and cooling of water.

Flooring

Habitat homes feature ceramic tile and bamboo flooring that will not harbor dirt, dust, or allergens like carpet does. Both floorings are also more sustainably produced, durable, and conduct heat better. With volunteer labor, ceramic tile is less expensive to install than carpet.

Paints and Adhesives

Volatile organic chemicals (VOCs) are found in many paints, adhesives, and other protective finishes. Studies have shown that long-term exposure to VOCs in the indoor environment can contribute to a number of serious illnesses. All paints and primers used by Habitat comply with Green Seal standards for low VOC limits. All adhesives, caulks, and sealants also conform to the most recent regulations.

Wood Products

Volaile organic chemicals (VOCs) are also found in the formaldehyde-based glues used in particle board, interior-grade plywood, medium-density fiberboard (MDF), and other composite wood products. Because of this, only composite wood products with no added urea formaledyhde are used in Habitat homes.

Ventilation

Optimal ventilation improves indoor air quality by providing fresh air to living spaces on a regular basis. Since air sealing is part of Habitat's energy-efficiency measures, adequate ventilation is essential to the health of occupants. Each Habitat home contains a whole-home ventilation system that provides a minimum of 15 cfm (cubic feet per minute) of fresh air per occupant.

Storm Water Drainage

Habitat homes feature pervious driveways that allow storm water to seep into the ground while retaining pollutants in the base course underlying the driveway. In the void spaces of the base course, automotive oils are digested by naturally occurring micro-organisms, leaving little but carbon dioxide and water.

Recycling

98% of Habitat's construction waste and land clearing debris are recycled.