How We Build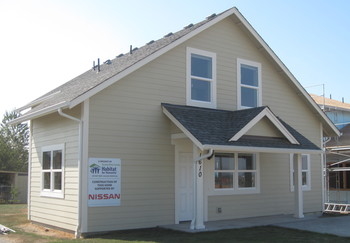 Tacoma/Pierce County Habitat for Humanity is committed to building neighborhoods that are a benefit to Habitat homeowners and the surrounding community. Environmental sustainability is an important part of that.
Houses built by Habitat feature a variety of green building techniques: extra-efficient appliances and heating systems, higher levels of insulation than required, high-performance windows and doors, and paint and flooring that emit the lowest level of chemicals into the air. 98% of all construction waste and land clearing debris from our construction sites is recycled.
All Habitat houses built in Pierce County are ENERGY STAR® certified, and several recent developments have also been rated four stars by the Master Builders Association's Built Green program and Washington State's Evergreen Sustainable Development Standard.