Other Youth Opportunities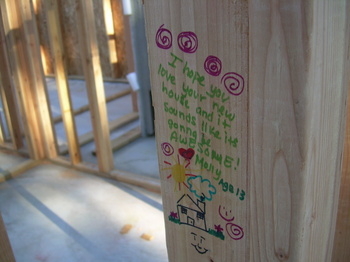 One of the most frequently asked questions is how youth can become involved with Habitat for Humanity. Unfortunately, Washington State law restricts anyone under the age of 16 from being out on a construction site. However, there are still ways to get involved.
Below are a few ways kids can support Tacoma/Pierce County Habitat for Humanity, including stories from a couple of youth who took on these projects of hope, help, and inspiration.
---
Build Lunches for Volunteers (ages 8+)
Kids want to get involved with Habitat for Humanity. This fun classroom project aimed at the intermediate grades allows them to do so. The Build-a-Lunch program is typically done in March during Collegiate Challenge, but could be done any time of year to feed a large volunteer group. Download the build-a-lunch project description and get your class building lunches for Habitat!
---
Stud-Signing Fundraiser (ages 11+)
Messages of hope and inspiration written on the stud walls of a home have long been a way for volunteers to communicate support to Habitat homeowner families. We've developed this into a fundraising project suitable for middle- or high-schoolers. Coordinate a stud-signing project at your school or church, then bring the signed studs out to a Habitat site and install them in a home alongside the homeowner. What could be more gratifying?
---
Organize a 5K (ages 14+)
Looking to combine her love for running with a passion for Habitat, a Gig Harbor high-school senior contacted a local race director and worked with him to have his annual 5K benefit TPC Habitat for Humanity.