Transportation Club Tacoma Team Habitat 2016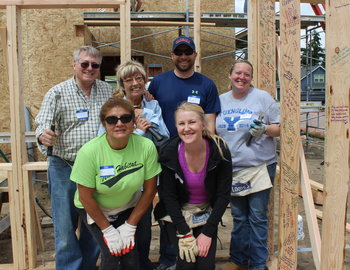 On Saturday, June 25th, Transportation Club of Tacoma came out to The Woods at Golden Given and participated in their fourth year of Team Habitat building! Additionally, on this day TCT participated in the wall raising of our 2016 Building on Faith home. While on site, this group assembled wall frames and raised them, incorporating their own signed studs which were placed in the framing of the house.
After working hard all morning, Transportation Club then barbequed for all of the volunteers, partnter families, and staff on site. Thank you so much for giving not only your time, money, and delicious barbequed food, but also for your dedication to your community and our mission. There are not enough words to thank you, Transportation Club of Tacoma, you are truley amazing!