Milgard Team Habitat Day 2015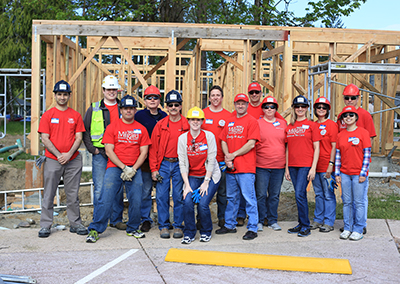 On Saturday May 2, employees from Milgard came out to The Woods at Golden Given for a Team Habitat day of building.
This team did lots of backbreaking work. First, they stripped the foundation for Lindsey Ravina's home. Stripping foundation requires pulling up boards placed to guide concrete when a foundation is poured and scraping off the remnants of concrete so the boards can be reused. Next, they worked on the home's drainiage pipes. Milgard employees dug drainage ditches, laid the drainege pipes, and hauled gravel to cover the drainage pipes.
Nick Albritton, the Construction Site Coordinator who worked with Milgard, said he was very impressed with the work they accomplished.
"They worked really, really, really hard," Nick said, "and left super sweaty." 
Thank you Milgard for your hard work! We appreciate all that you do to help more hardworking, low-income families achieve their dreams of homeownership!