Team Habitat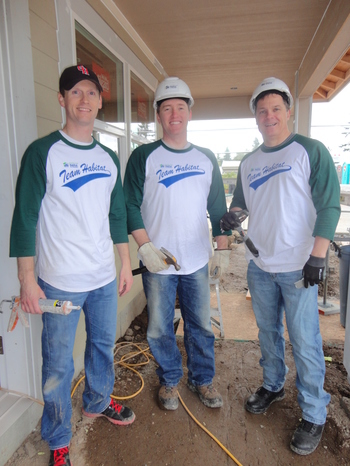 Take a day to get out of the office and into the community!
Team Habitat is a program for groups looking to work together on a Habitat for Humanity construction site. This day of building with Tacoma/Pierce County Habitat for Humanity allows your group to connect with each other in a fun and unique way while making a difference in the community.
Combining a tax-deductible donation with a day of volunteering, Team Habitat helps us raise crucial funds to purchase the land and supplies needed to continue our mission of building safe, decent, and affordable homes in partnership with low-income families in need.
From large organizations like MultiCare and McGladrey, to small to midsize businesses like Eisenhower Carlson PLLC and Charles Schwab, corporate groups find Team Habitat a rewarding way to give back to the community.
Faith groups such as Immanuel Presbyterian, University Place Presbyterian, and Rainier View Christian Church have participated, as have community organizations like the Rotary Club of Clover Park and the Transportation Club of Tacoma.
Team Habitat FAQ