Birthday Build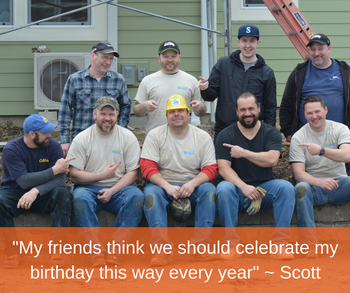 Celebrate by Giving Back
Looking for a unique way to celebrate your next birthday? Gather a group of friends and spend your special day building with Tacoma/Pierce County Habitat for Humanity!
A Birthday Build is a fantastic way to have fun and celebrate you while enjoying the fulfillment that comes from helping others.
Instead of gifts you don't need, ask your friends to make a tax-deductible donation toward the total: $500 for up to 20 people or $250 for up to 10 people.
Includes Habitat t-shirts for all guests and birthday cake.
Availability is limited. Call 253-627-5626 x 104 or email now to schedule your special day.
Please note: All participants must be at least 16 years old.
Click here to read about Birthday Build on our blog.