Women Build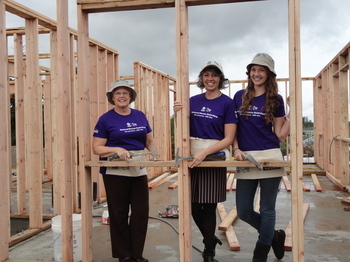 Women Build empowers women volunteers by teaching them how to build homes. While 50% of Habitat for Humanity volunteers are women, less than 15% of them volunteer on the construction site. Women Build brings together women from all walks of life to actively address the need for simple, decent, affordable housing in our community.

Nationally, more than 60% of Habitat for Humanity's houses are built with women heads of household. These women would typically be dependent upon the goodwill of neighbors, friends, and relatives for even minor home repairs. However, because of the training they receive as part of building their Habitat home, they are better equipped to maintain their homes and, consequently, are more confident in their ability to cope with day-to-day situations.

TPC Habitat for Humanity has built five houses specifically as part of Women Build, and continues to conduct special Women Build projects throughout the year. In 2013, Women Build will take place on these days:
- May 11
- July 17
- July 18
- July 19
- July 20
To participate, simply attend a new volunteer orientation and then sign up on VolunteerUp for the Women Build date(s) of your choice.
If you have additional questions about Women Build, please contact Volunteer Services.