Women Build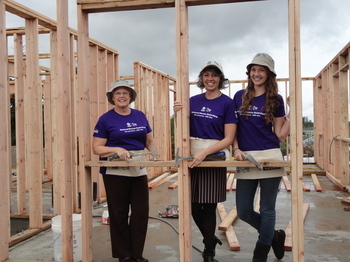 Women Build empowers women volunteers by teaching them how to build homes, bringing together women from all walks of life to actively address the need for simple, decent, affordable housing in our community.

Nationally, more than 60% of Habitat for Humanity's houses are built with women heads of household. Due to skills they learn while building their Habitat home, these women are better equipped to maintain their homes and, consequently, more confident in their ability to cope with day-to-day situations.
 
The first Women Build home in six years!
For the first time since 2009 Women Build has a dedicated home in Pierce County. In 2015, Women Build will run every Friday and Saturday from May 9th to September 26. We'll be building an entire home at The Woods at Golden Given, from foundation to dedication. Volunteer with us every week or just a few times to make a difference.
Ways to be involved
Volunteer: Contact Volunteer Services to find out how to volunteer with Women Build.
Donate: Women Build needs your support. Donate now to help us reach our goal of building a Women Build house every year.