Global Village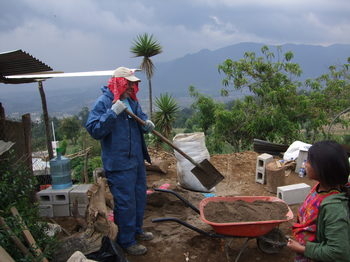 Looking for the adventure of a lifetime? Habitat for Humanity's Global Village volunteer program gives you the chance to change people's lives while exploring some of the world's most amazing destinations.

Every Global Village trip is different, but the mission is the same: To help build someone a new home while working toward eliminating poverty housing worldwide. Global Village team members can expect to gain a unique set of experiences and memories. You will have the opportunity to learn about the local culture, language, and social practices while also learning new skills and gaining confidence.

Global Village itineraries offer a balance of work, rest, and free time. Most teams spend time sightseeing and participate in outdoor activities. These activities can range from safaris in National Parks, to museum visits, to kayaking down rapids. You are also likely to gain lifelong friends along the way.

At Tacoma/Pierce County Habitat for Humanity, for every house we build, we tithe 10 percent to Guatemala. We've sent Global Village groups to Guatemala, as well as to Romania and Macedonia. However, these aren't the only destinations you can choose from. Habitat for Humanity International sends Global Village teams all over the world.

---
Global Village Quick Facts
There are no language requirements for any destination; an interpreter will be provided if necessary.

Most locations require that you have a passport.

It usually takes six months to schedule a trip.

Team sizes range from 8 to 15 people.

Habitat for Humanity has affiliates in 100 countries.

No experience is required!
---
How Much Does It Cost?
Asia / South America: $1000 - $1800

Central America / Caribbean: $1000- $1400