Home Repair in Tillicum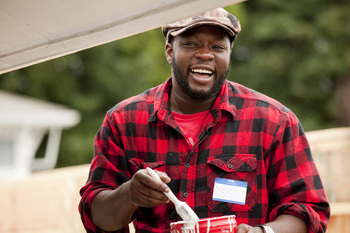 Are you a homeowner in Tillicum? Is your home in need of critical repair?
If you answered "yes" to these questions, Tacoma/Pierce County Habitat for Humanity may be able to help. Habitat is offering home repair assistance to low income homeowners in the Lakewood neighborhood of Tillicum through its Neighborhood Revitalization Initiative (NRI). The focus of the program is to provide critical repairs to existing homes. Repairs are related to general poor structural conditions, roof repair, safety, weatherization, and painting, as well as special needs such as wheelchair ramps. Work is performed by Habitat staff and volunteers. The program is not a remodeling or emergency repair service, but provides a means for lower income homeowners to repair their homes at little to no cost.
There are three main services in which low income homeowners may apply to receive assistance:
A Brush with Kindness (ABWK)

An exterior home preservation service that provides landscaping, debris removal, window repair, painting, and caulking.

Critical Home Repair

Focuses on both exterior and interior home repairs such as roofs, exterior and interior wall repairs, floor systems, and handicap accessibility.

Home Rehabilitation

Helps homeowners reclaim their homes from extensive disrepair. Habitat utilizes "green" building practices which help save money on energy costs.
Using the Habitat for Humanity model of partnering with families in need, homeowners must qualify for a no-profit, 0% interest loan provided by Habitat, as well as fulfill "sweat equity" hours (hours spent by homeowners helping to repair their own home and the homes of others). Loan payments are designed to be affordable to the homeowner.
"We have found that if a home needs a major repair, homeowners will get one or two quotes from contractors, but often the cost makes the repair unaffordable. Habitat is able to provide services that are often 50-70% below commercial rates. This makes it possible for our partner families to get the repairs they need so they can remain safely in their own home," says Maureen Fife, Chief Executive Officer of Tacoma/Pierce County Habitat for Humanity.
To see if you qualify for home-repair assistance, please fill out our brief on-line form. You may also email or call us at 253-627-5626.