Team Challenges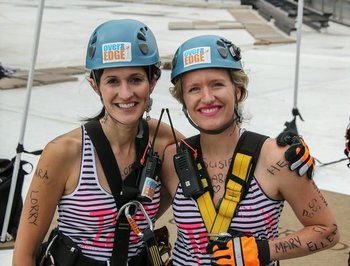 Challenge your business, school, or club rival in a friendly competition to go Over the Edge for Tacoma/Pierce County Habitat for Humanity.
Each $1,000 raised earns your team an "Edger" spot, or earn participant rewards as you reach various fundraising milestones.
Our post-event party will feature fun awards for all Team Challenges.
---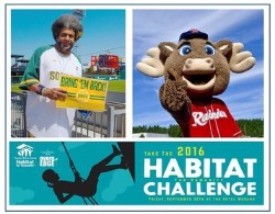 2016 Team Challenges
The gauntlet's been thrown in these challenges:
Sonics Guy vs Rhubarb - Who wouldn't want to get behind these two hometown favorites!?!
UP Brew Crew vs Tacoma Runners - These local running clubs are trying a new sport - rappelling!
HomeStreet Homies vs Columbia Bank - You will never look at bankers the same way again!
---
Additional Teams
These teams could use a challenger. Anyone up for taking them on?
MultiCare - CEO Bill Robertson is taking the Challenge!
North End Social Club - This 6th Ave bar is seeking challengers from other Tacoma watering holes. Any takers?
Pacific Lutheran University - President Kriss and his wife Patti are both taking the Challenge!
RSM - This CPA firm plans to launch managing partner Lisa Wilson from the roof of the Murano in a classic Toss Your Boss.
Second Use Building Materials - "We'll do just about anything- including shove two of our best employees off the side of a building- to support Habitat's mission," says this corporate partner.
University Place Presbyterian Church - Any other churches want to take a leap of faith with these Habitat supporters?
---
Interested in starting a Team Challenge? Download Team Challenge information here.