Fundraising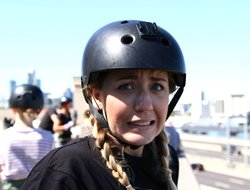 You've signed up to take the Habitat Challenge. Your adrenaline is pumping. You have the date circled on your calendar. But wait... How do you raise $1,000?
Fundraising 101
Don't be afraid to ask. The #1 reason people give is because they are asked. Don't be shy. The worst someone will do is tell you no. At best, they will give more than you expected!
Be excited! If you are excited about the Challenge, people will feed off of your enthusiasm. If you're taking the Challenge to conquer a fear of heights, or because you are passionate about Habitat for Humanity, share this with your supporters.
Know your Habitat facts. Let your supporters know how their funds help our mission. The sticks-and-bricks cost of a Habitat for Humanity house in Pierce County is roughly $80,000. If everyone participating in the Habitat Challenge meets their $1,000 goal, that's one complete Habitat house built!
Vary your asks and be persistent. A single Facebook post or email is probably not enough. Share your fundraising page frequently but vary what you say. Are you close to the halfway mark? Are you getting excited/nervous about the rappel? Make your messages personal and keep people updated on your progress. 
Here are some specific fundraising ideas to help get you to your goal!