FAQ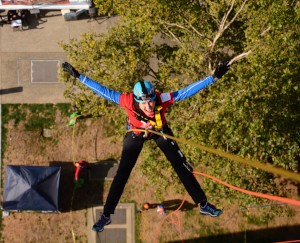 Rappelling down the side of a building? Really?
Yes! It may sound crazy, but is actually extremely safe. The Habitat Challenge is done in partnership with Over the Edge, who has put on over 500 similar events worldwide - including the inaugural Habitat Challenge last year in Tacoma at the same building (Hotel Murano).
What is it like?
This is not your typical rock-climbing rappel! You will be wearing a full-body industrial harness and using an industrial descender to go down. You can control your speed to a certain extent. Should you go too fast, the back-up device will engage. Getting your weight off the roof and into the harness is the difficult part for most people. You will have an opportunity to practice your technique during training and a technician will guide you through these first few steps. Once you are over the edge you will have a radio to communicate with your technician. Don't forget to stop and take in the view!
Do I have to have prior rappelling experience?
Absolutely not. Over the Edge's skilled technicians will show you everything you need to know before sending you on your way.
Can anyone do it?
The only restriction is weight - participants must weigh between 100 and 300 pounds. The only limit for someone with a physical disability is that roof egress by wheelchair is not possible at Hotel Murano. Participants must be able to climb two flights of stairs to the roof and a short ladder once on the roof. 
How long will it take?
The rappel itself should take 10-15 minutes, but the full experience (from registration until you are back on the ground) is 60-90 minutes.
Is it difficult?
Rappelling can take more effort then some people expect, and you may find that your hands or arms get tired. You can stop to rest or switch hands if you need a break. If you find yourself unable to do it on your own, a technician can lower you to the ground.
What should I wear?
You will be walking down the side of a building, so footwear is important. Well-fitting sneakers, light hiking boots, or other soft-soled shoes are recommended. No sandals, slip-on shoes, slippers, flip flops, high heels, or steel-toed boots are allowed. Wear long pants and a shirt that covers your shoulders. Athletic pants, tights, and jeans are suitable. The harness goes around your legs, waist, and shoulders, so it is best to avoid anything too bulky. Shirts should be comfortable and without draw cords. Long hair must be tied back. You will be required to leave anything that could fall off of you or out of your pockets (keys, cell phones, some jewelry) at check-in. You will be given a pair of leather gloves and helmet to wear as you descend.
Can I wear a costume?
We would love you to wear a costume! All costumes must meet the standards above and capes must be approved by the site safety supervisor. If you have questions about whether or not your costume will meet approval, please email a picture to tsorenson@tpc-habitat.org so we can run it by the safety crew.
Can my friends and family watch?
Yes please! We encourage you to bring your friends, family, and coworkers. We even offer a prize for the best fans! The Hotel Murano courtyard will be packed with fun things for spectators - including the Umpqua Bank Ice Cream Truck and Shock Top Liquid Courage Station.
How many people can do the rappel?
There are 76 rappel ("Edger") slots on Friday, September 22. A limited number of media/VIP slots are available the afternoon of Thursday, September 21.
How do I secure my spot to rappel?
All Edgers agree to raise a minimum of $1,000 for Tacoma/Pierce County Habitat for Humanity. Register online by paying your $50 registration fee, then you will be sent an email that includes information on fundraising, a link to join our Edger Facebook page, and a form to guarantee your Edger slot by credit card (allowing extra time after the event to bring in donations). Once the event reaches capacity, online registrations will be halted and a we will start a waitlist for interested participants.
Should I raise more than $1,000?
Yes, of course! We have some great fundraising incentives, and the more you raise, the more you unlock!
Who do I contact with questions?
Contact Tracey Sorenson, Community Engagement Manager at Tacoma/Pierce County Habitat for Humanity (tsorenson@tpc-habitat.org or 253-627-5626 x 104).