Recycling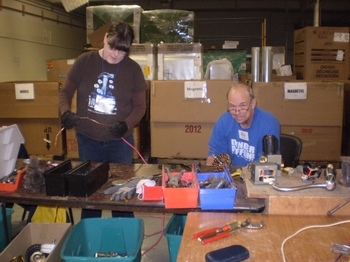 Recycle Team
Not only does Habitat for Humanity care deeply for the families in our community but we also care about the community itself and the environment in which we all live. In the Stores as well as our Construction sites we recycle everything possible.
One example of this is metal recycling. Since the first Store's beginning we have recycled metal from motors, fixtures and other items that we could not sell in the Store to help fund our mission. Since moving to our new location metal recycling has grown as our donations have increased and we found that to impact our recycling program we needed to have someone dedicated to it. Teri Baker, a long time Habitat for Humanity volunteer with Woman Build and on the Construction site, stepped up and asked to take over this task.
Teri comes in twice a week and has now gotten her husband Pat involved. Since taking over the program Teri has increased our metal recycling funds 65% - absolutely amazing!
Thank You Teri Baker for taking on this very important task!