Bonney Lake High School Senior Finds a Fun Way to Fundraise for Habitat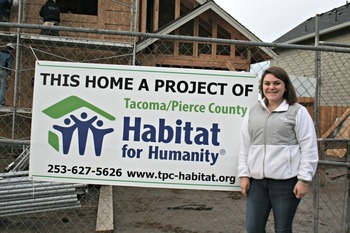 When Taylor Liebig, a Bonney Lake High School senior, was looking for a community service project for FCCLA, she contacted Habitat to inquire about fundraising and volunteer opportunities.
For the fundraising component of her project, Taylor needed something that would be easy to execute at school. Building on "stud signing" events Habitat had conducted in the past, Taylor designed a project that would allow her to raise funds as well as awareness about Habitat. She purchased four 2x4 studs and took them to school, asking her classmates to make a donation to Habitat in return for signing the studs and writing an inspirational message to a Habitat family.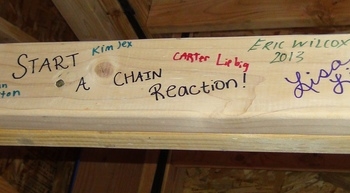 Next, Taylor arranged to have the studs installed in a Habitat house. She brought them to a home under construction in Tillicum, where Habitat's site construction manager helped her install them.
The homeowners, the Tran-Nguyen family, were able to view the signed studs and see the messages of hope and goodwill Taylor and her classmates had written.
A few weeks later, Taylor came out to volunteer with Habitat. Along with a group of peers from FCCLA, Taylor helped paint the exterior of the Tran-Nguyen home.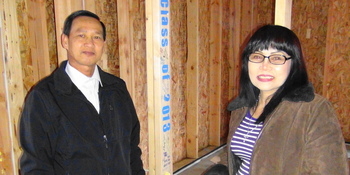 Not only did Taylor's efforts raise a significant amount of money for Habitat (over $700), but she also raised awareness about the need for affordable housing in Pierce County. Her project earned her a trip to the national FCCLA competition in Nashville, TN this summer, and a nomination for her school's most prestigious award - The Heart of the Lion. Taylor hopes her project will become a model for similar ones in the future.