Gig Harbor High School Senior Organizes Race to Benefit Habitat for Humanity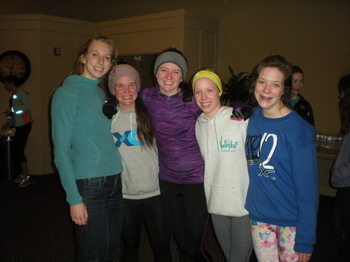 by Elise Saxon
We had a great turn out for the You Knock My Socks Off 5K race on February 16 - with over 292 registered runners and more than 20 volunteers!
I come from a family of runners, so running has been a part of my life since I was very young. I really got passionate about it in high school because of the cross country team and some of my friends there. It is because of this passion that I decided to raise money to help Habitat for Humanity by organizing a 5K race, as I have seen the power these events have in raising money and encouraging runners.
Jeff Bauknecht, the race director for the Knock My Socks Off 5K, is my mentor for the project and he was an amazing guide through the whole process. He was very generous in giving me a part in his race so I could do my project. Mr. Bauknecht has been a great help and teacher.
I have learned a great deal about Habitat for Humanity's work, and am inspired to help others because of the work Habitat does in communities and people's lives. It is a wonderful feeling to be able to help Habitat for Humanity not only by donating, but also by volunteering, as I will be very soon, as the second part of my project.
Through putting on a run and getting an inside look at Habitat for Humanity, I've learned about the joy and satisfaction evoked by non-profit work, and am so excited to continue volunteering.